Contest Details & Top 10 Countdown with Michelle Obama as seen on David Letterman!
Do you have a beautiful garden bearing vegetables/fruits that you would be proud to show off! For a chance to win Michelle Obama's brand new book "American Grown" & the official "Arms of a First Lady" workout fitness DVD? There's no purchase necessary to enter our "FitLife Garden Contest!" on Facebook! Be sure to LIKE US & join our FitLife Family!
Simple Entry Guidelines for the "FitLife Garden Contest!" On Facebook: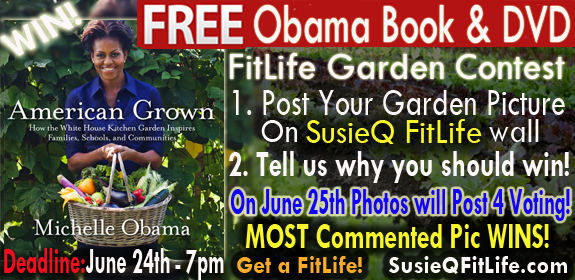 Three Steps To Enter! Let's WIN!
1. Post Your Garden Picture on our SusieQ FitLife Facebook wall "between" June, 7th until June, 24th @7pm!
2. Tell us why you should win! (Only one entry is necessary with one photograph upload)
***On June 25th your photo will repost in a collage of other entries for public voting on our FitLife wall
3. Have friends/family "LIKE" & Comment on your photo, directly on our FitLife page to track all votes!
The Most Commented Picture WINS on Monday, July, 2nd, 2012 @7pm! Where another special grand prize will be announced & awarded to the winner, on our website & Facebook Page!
Be ready to have fun with your new FitLife Family on Facebook! GOOD LUCK! EVERYONE!
First Lady Michelle Obama Presents the "Top Ten Fun Facts About Gardening!" on David Letterman!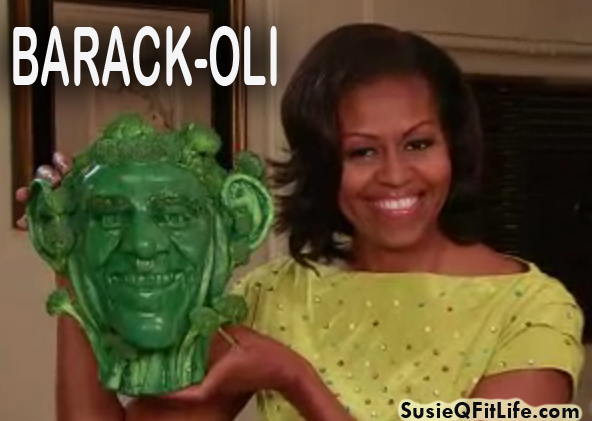 #10: Gardening was invented in 1822 by Albert Gardener.
#9: Plant avocado, tomato, onions and cilantro together to grow a guacamole tree.
#8: Eggplants were originally cultivated for use as doorstops.
#7: In his lifetime, the average American will eat half a radish.
#6: The largest zucchini ever grown contained a Starbucks.
#5: Later this year the Supreme Court will finally rule on "Tomato" vs. "Tomahto."
#4: If you have an actual green thumb, it might be scurvy.
#3: Lettuce is 96% water and 4% lettuce.
#2: The White House tool shed contains shovels, trowels & Weed Whacker One.
#1: "With enough care & effort you can grow your own Barack-oli."
SusieQ FitLife wants you to Watch Your Mouth & Get a FitLife!
Watch SusieQ FitLife featured on: Dr. Oz, Good Morning America Health, The Dr. Steve Show & Many More Nationally Syndicated Shows!