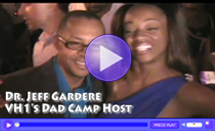 Health Writer & Producer, Madison Park of CNN spoke to Barack Obama's Trainer, Mr. Cornell McClellan about the "SusieQ FitLife: Arms of a First Lady" Fitness DVD.  This CNN health report is published prior to Michelle Obama's 48th birthday on January 17th, 2012. "It is inspiring to witness such a healthy President and First Lady in office at this day in age.  Having such positive role models should reinforce that anyone can "Get a FitLife" at any age! " says, SusieQ.
CNN reveals: McClellan is no doubt pleased with Michelle Obama's much-coveted arms, which are so admired that they have spawned exercise DVDs with titles like "Arms of a First Lady".  Madison also reports that the president is in tiptop shape at age 50.  Obama passed a physical exam in October with a healthy body mass index and normal blood pressure and cholesterol levels.  The doctor wrote that Obama was in "excellent health and 'fit for duty."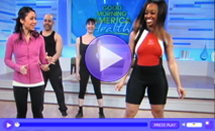 SusieQ FitLife is actively pursuing the Let's Move campaign to join forces with Michelle Obama to combat childhood obesity (SusieQ's Announcement Broadcasts on Good Morning America Health).  The DECLARATION entitled "Watch Your Mouth & Get a FitLife!" was created to attain one million signatures to present to Capitol Hill, signed by children and anyone across the nation who declares to "Get a FitLife!" Kids can now look at junk food differently in this must-see viral video FOOD FIGHT extravaganza! SusieQ says "Children are inspired to do exactly what they see adults doing. We must lead by example.  Stop the Food Fight & Let's Move!".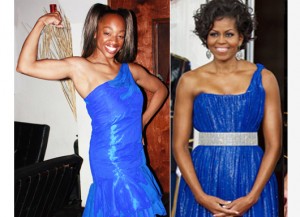 Surprisingly, Michelle Obama & SusieQ are armed with a similar taste in design. SusieQ wore an off the shoulder electric blue dress (designed by Vilma Oakley) for the Arms of a First Lady DVD Launch Party in June. The following month, Michelle Obama wore a similar dress with an accented beautiful sparkling belt. These two ladies are destined to meet!
If you want to make a positive healthful change, join SusieQ FitLife for the Watch Your Mouth Faceoff to kick a bad habit to replace with a good one & accredit your DECLARATION to Get a FitLife!
Special Note: Betty White, 90yrs young – Veteran Actress was honored by the President in a comical way. There's no need for an early retirement when you do what you love in your FitLife!