SusieQ is DR. OZ Approved!
SusieQ on The Dr. Oz Show!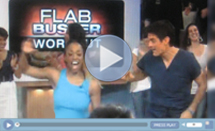 Watch Fitness Expert SusieQ teach Dr. OZ a thing or two with an explosive dance she created called the "Ultimate Flab Buster Workout" on The DR. OZ Show! The audience goes ballistic in the studio! It's a phenomenal experience, so Press Play!
SusieQ on GMA Health ABC7 News Now!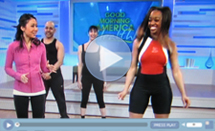 ARMED Celebrity Fitness Trainer, SusieQ is featured on Good Morning America Health ABC7 News Now to debut the "SusieQ FitLife: Arms of a First Lady" Fitness DVD! She speaks about joining forces with Michelle Obama's Let's Move campaign! These Flab Buster movements will have you grooving at home like Beyonce'!
SusieQ's on ABC's The View!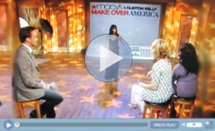 SusieQ's appearance on ABC's The View sparked an incredible reaction from Elizabeth Hasselbeck & Sherri Shepherd! This pivotal moment is created when Sherri states "You've got those Michelle Obama ARMS!" to SusieQ & "The Arms of a First Lady DVD series was born! Watch history being made!
SusieQ on CBS with Kate Sullivan!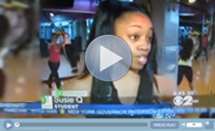 SusieQ describes the benefits of incorporating, natural body weight with exercises in a TRX class versus the use of machines.
SusieQ on The TODAY Show!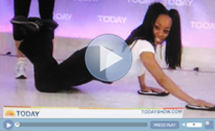 SusieQ rises to shine on NBC's The Today Show! She demonstrates advanced & intermediate exercise moves that can be performed at home. Watch & See!
SusieQ Jumps on LXNY NBC4!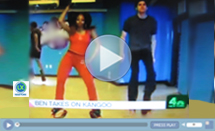 SusieQ is the lady in red who appears to be a MANIAC on Kangoo's! Jump & Click!
SusieQ's Armed on NY1 TV!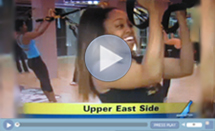 SusieQ gets an Armed loaded workout filled with suspension on NY1 TV!
SusieQ's Stair Climb NY1 TV!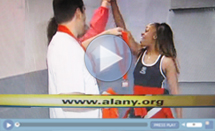 Celebrity Fitness Trainer Leads the pack in the American Lung Association's very first NY Stair Climb. SusieQ appears on NY1 accepting her badge after completing two rounds of the Fight For Air Stair Climb!