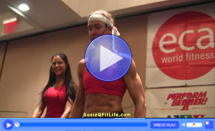 Witness the ECA World Fitness Alliance NYC 2012 Video Clip!
The ECA (East Coast Alliance) WORLD FITNESS Convention is bringing fitness lovers, Instructors, Trainers & Pros together annually, under one roof inside NYC's Marriott Marquis! This international organization represents the wellness & fitness community very well with an innovative OBOW (One Body One World) Tradeshow.  Joy, diversity & passion would be a few words that Founder/CEO of the ECA, Carol Scott would use to describe this annual event.
Watch a glimpse of this incredible Expo, as SusieQ FitLife takes you on a journey to meet living TV legends like Gilad, International Insanity Fitness Hip Hop Stars & Rapper like Shaun T, Spinning Animal Leaders like Josh Taylor, Athletica by Illaria, Booty Barre's Tracey Mallet, Power Gliders, Jump Sport Rebounders, Core Fitness Rolling Pros, moving music from MoveYa.com, an array of top Master Instructors, Yoga Gurus, Zumba Stars, Arms of a First Lady, BodyArt, Sex Appeal from Misty Tripoli or Marvin Foster Jr., plus thought provoking workshops with game changing lecturers', health practitioners as Paul Chek & the attendees who love it all!
We invite you to challenge yourself, move, sculpt, dance, train, burn, blast & sweat your way to Get a FitLife!
Be sure to LIKE the ECA on Facebook for more info & visit Facebook.com/SusieQFitLife for more images & giveaways! Special thanks to Cameraman Mr. Devon Malik Scott!