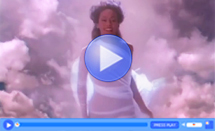 Whitney Houston's Death Affects the Community!
Whitney Houston's sudden death at 48yrs old, have taken people by surprise and has stirred up emotions! You can't seem to help but feel sadden while listening to her music, as if you lost a close family member.  Over the years she has become a part of our lives & the SusieQ FitLife Family wants to celebrate the life & gift of Whitney the Iconic Legend in this video tribute (See Jennifer Hudson's Grammy Performance Tribute to the Queen of Pop).  Let's explore how this affects many people within the community.
More than just being a muti-talented six time Grammy Award winning Singer & Actress; Whitney has motivated many musical rising stars for decades.  Her untimely passing has raised many questions & has caused speculation on the cause of her death, as to whether it may be drug related due to past problems.  Although the investigation continues, Ms. Houston has publicly experienced distress & a tumultuous marriage to Bobby Brown.  Many wonder if she would still be alive today, if different people surrounded her.  The series of events have led us to take a closer look at the children within our community and the type of choices that they are naturally left to face on their own.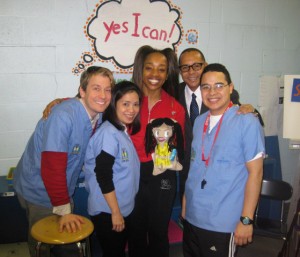 Whitney Houston strongly believed that the children are our future & that we must teach them well! America's Favorite TV Psychologist Dr. Jeff Gardere & SusieQ FitLife have teamed up to in great support of the Let's Move campaign formed by Michelle Obama to encourage children to become healthier preventing childhood obesity.
A group of ambitious children experienced the physical & psychologically charged presentation in the Project Aspire Program at PS 197 through Touro College.  Along with good health/fitness & nutrition tips, Dr. Jeff & SusieQ stressed the importance of making good decisions regarding the group of friends that young children choose to keep.  Every action creates a reaction and today's decisions strongly impact the outcome on life in future!
Unfortunately, we don't have "one moment in time" to bring Whitney Houston back; however, we do have the power to change lives, one child at a time! Let's focus on helping our kids to create two great habits: "Watch Your Mouth!" pay close attention to what you eat and what you say! Not everyone deserves an invitation to your life.  This can have a destructive or fruitful outcome depending on the choices we make!
Now "Let's Move" & "Get a FitLife!" This involves creating a life with balance of homework, family time proper rest & exercise! Working out regularly for 30-60mins a day can make anyone feel great!
Kids were also reminded that "We are all the same on the inside" with look-a-like sage dolls, created by Timothy D. Bellavia.  Excellent reminder that we are no different from one another! Stay motivated and listen to the words of Whitney Houston's life changing lyrics:
I Didn't Know My Own Strength: "I crashed down and I tumbled, but I did not crumble/I got through all the pain,"
Greatest Love Of All: I believe the children are our future.  Teach them well and let them lead the way.  Show them all the beauty they possess inside.  Give them a sense of pride to make it easier.  Let the children's laughter remind us how we used to be!