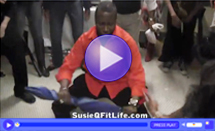 Before you go anywhere tonight! Be sure to visit the Harlem Shake restaurant and join the Thriller Flash Mob Dance Party. It is brought to you by Harlem4Obama's Chet Whye & SusieQ FitLife's Non-profit organization GetaFitLife.org.  Special thanks to The Harlem Shake Restaurant for being our proud sponsor of our organization; as we are dedicated to improving the health of the children in our community through nutrition & fitness.  Join us tonight as we will all have a blast!
All the fun begins with a Fire Show in front of the Harlem Shake Restaurant on the corner of 124th Street & Lenox tonight at 8pm. The Thriller Flash Mob dance will follow immediately afterwards at 8:30pm.
Get ready to wobble with Obama & get your THRILL on in front of the Harlem Shake! Be sure to ask SusieQ what her favorite dish & beverage is on the HS menu! There will be many exciting & upcoming events with Chet Whye & SusieQ FitLife at the Harlem Shake!
Be sure to watch the historical grand opening of the Harlem Shake Restaurant Launch Party video clip above! You don't want to miss how to do the Real Harlem Shake!
Do the Real Harlem Shake!"