Thank YOU 4 taking our Poll! Results Appear Below! Get the Full Scoop Below!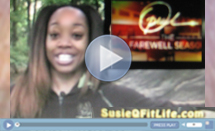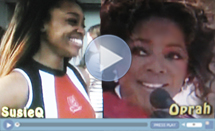 Oprah Winfrey Speaks About Susie! Click on video to see!
We've still got Oprah! Her 25yr Daytime Talk Show is gone! But, we have our OWN Channel!
SusieQ is now on a mission! Since the last season of the show, SusieQ has been in communications with the Associate Producer at Harpo Productions. The future appeared bright because the Producers really liked the "Arms of a First Lady" fitness DVD launched by SusieQ FitLife! Harpo confirmed that Oprah is a huge supporter of Michelle Obama & although the DVD is great; Oprah is not a huge fan of working out! It's too bad she hasn't met SusieQ! Maybe it's not too late?
SusieQ would love to meet her Queen of TV-Diva-Icon! However, securing tickets to even watch Oprah seems to be a mission impossible! SusieQ feels that this is her last chance. She learned something from her recent interview with DeVon Franklin; that in order to encourage others to have faith, it is essential that to have faith yourself! SusieQ hits the road today with strong belief that she will attend the show and meet Oprah Winfrey. Meanwhile, SusieQ doesn't even have a ticket but, she will film this experience regardless of the outcome and take you on her personal FitLife journey. This will kick off the launch of her all new "Confessions of a Celebrity Fitness Trainer" on-line video series. Everything you ever wanted to know, but were too afraid to ask, will soon be revealed.
Will SusieQ preserver and meet Oprah & attend the live show? Read the instant Facebook & Twitter alerts towards the bottom right hand column of this brand new website! Click here to learn the results!
Ultimately, SusieQ wants to inspire everyone to "Get a FitLife". Be the dream & do what you love! That will bring peace & happiness within your FitLife! Oprah said, "If you don't do what you love, you DIE a little bit EVERYDAY!" The mission to be accomplished here is that we must not hesitate in going for our dreams and passions. "Watch Your Mouth" and the negative things that you may say to yourself! Do not fear rejection; for every learning curve and set back, will only propel you further in attaining your DREAM! Instead, ask yourself "What did I learn from that challenging experience?" That's when you know you are on your way to "Get a FitLife!"
SusieQ FitLife is all about YOUR FitLife!
Our Poll is Closed! Thank YOU for participating! 100% of Voters Said: YES! SusieQ will meet Oprah!!
[polldaddy poll=5051483]