Get Michelle Obama Arms on Oscars Day!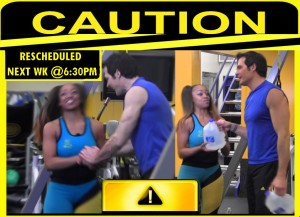 HOLD the Oscar! Breaking News! The Academy Award Winning Michelle Obama Arms workout has been rescheduled to air on PIX11 on Sunday, March 4th @ 6:30pm! UPDATE! Please make note of the recent scheduled change!  *** On the day of the Oscars, you can become a few steps closer to having Michelle Obama arms and walk the Red Carpet with style, grace & confidence! Priceless and time saving secrets are on the way as SusieQ FitLife gives you a few exercises to get those "Michelle Obama Arms!". Watch PIX11's TV Host of the Dr. Steve Show receive a surprise visit from the ARMED Celebrity Fitness Trainer, as SusieQ sculpts Dr. Steve in a way that he did not expect! See this sneak peak clip on the upcoming excitement & fun to come this Sunday!
The "Arms of a First Lady" can be achieved without having to go to the gym and SusieQ shows Dr. Steve and everyone at home how to use household items, while feeling the burn, without having to spend a penny! Innovative exercises like "The New 'BAMA Swing" & "The ARMED Force Raise" are just a few cool ways to feel like a First Lady! A simple warning to MEN is to not underestimate the "Arms of a First Lady" workout! It will challenge you to "hurt so good" Just ask Dr. Steve or anyone who has worked out to the SusieQ FitLife DVD!
SusieQ stresses the main components to achieving toned & defined Michelle Obama Arms listed on The Dr. Steve show! However, we will give you the exclusive tips below, so you don't have to wait to get started on achieving your "Arms of a First Lady!"
1. Muscular Strength training to burn more body fat while working the largest muscle group.
2. Cardio Bursts to increase cardiovascular fitness level, working out more frequently.
3. Watch Your Mouth! This crucial step can stimulate your metabolic rate! Priceless!
4. Get a FitLife! Living a healthy balanced lifestyle consisting of proper rest & other essentials.
The Dr. Steve Show will be showcased on Sunday, March 4th, 2012 at 6:30PM on PIX11 in New York. Check your local listings or view the Dr. Steve website! But, why wait?! Watch it NOW!
Watch Dr. Steve & SusieQ in full OBAMA SWING! Dr. Steve is a 30-minute health, wellness and lifestyle program. The multi-topic show is hosted by Dr. Steven Salvatore, a board certified Emergency Medicine physician who has served as the health expert on PIX11 Morning News.