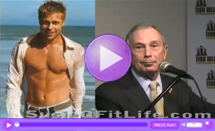 Watch this electrifying Martin Luther King Celebration by Rev. Al Sharpton featuring Michael Bloomberg with an appealing touch of Bloomberg's humor involving Denzel Washington & Brad Pitt (video clip 5:27sec). SusieQ FitLife will continue to cover REAL FitLife issues, outside of Health, Fitness & Wellness to better our communities. There should be no limits to how you live your FitLife!
The 25th anniversary of the federal holiday honoring Martin Luther King Jr., Mayor Michael Bloomberg and several other elected officials joined hundreds of New Yorkers at the Reverend Al Sharpton's National Action Network headquarters in Harlem.
It has become political tradition of sorts to link Martin Luther King Jr.'s legacy to issues of the day. The Reverend Al Sharpton's annual King tribute at his National Action Network headquarters in Harlem, featured one elected official after another. The gathering over flowed with many politicians paying tribute as the crowd spilled out of the doorways in this packed house.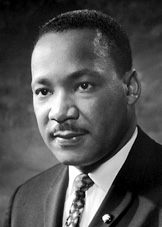 Sharpton's annual commemoration has become a "can't miss" event for New York's top elected officials, but there were some no-shows Monday. Most noticeable was Governor Andrew Cuomo, who was recovering from a dental procedure and had to cancel his planned appearance.
Mayor Michael Bloomberg was at the rally, and despite a warm introduction from Sharpton, he drew a decidedly mixed response from the crowd, with about as many boos as cheers.
"Well you know, that's what Al talked about. Some things we agree on, and some things we don't," said Bloomberg in response.
The mayor touted his efforts on education, juvenile justice reform and gun control. He pointed out that black males ages 14 to 24 make up 64 percent of murder victims.
"Their homicide rate is five times that of whites in the same age bracket. In the face of that, it is our duty to act," said Bloomberg.
Sharpton told the crowd too many are fighting the civil rights battles of 50 years ago and ignoring the problems of today.
"We won the voting rights battle, problem is getting them to count the votes right," said Sharpton. "We won the battle against mob violence in the south. Now our children are acting like mobs in the north." He also turned to the issue of gun violence. They cited the Arizona shooting rampage that left Congresswoman Gabrielle Giffords wounded.
"We pray for her to get better, and we pray for the families of those that are grieving. But let's remember the 605 people this month who will be shot, the victims of illegal guns who you won't read about in the newspaper," said Brooklyn-Queens Representative Anthony Weiner.
"It is absolutely ridiculous that any idiot can get a gun and then go forth and kill people," said former Mayor David Dinkins.
It was one of many calls to action, as leaders tried to envision what King's rallying cry would be if he were alive today.
(NY1's Bobby Cuza filed the following report.)