Sing & Dance Your Way to Health!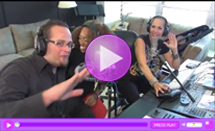 A musical radio health show is one thing New York City has been blessed with as the Host of a Radio Show; Marina Kamen provides an online workout to the World Wide Web! Believe it or not this high energy radio show is the first of its kind & it benefits many people who are visually impaired! Some of Marina's dedicated listeners are blind and look forward to hearing her uplifting music, fitness instructions and various guests! SusieQ had the opportunity to appear on Marina's radio show with Actor & Co-host of the show Brandon Osborn! Marina has lost over 100lbs and she has helped Brandon lose 75lbs and counting! Be prepared to feel the BURN, as Marina's High NRG Fitness & workout Musical Health Show really lives up to its name!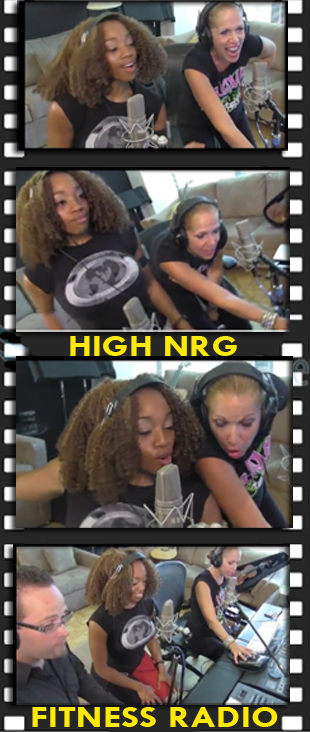 It's SHOWTIME!   
The very first time, ARMED Celebrity Fitness Trainer, SusieQ appeared on Marina's show she was absolutely shocked to learn that Marina, not only hosts the radio show but, she was also SINGING LIVE on-air! SusieQ was blown away & that video footage will be coming out very soon! We must apologize to all the viewers who are about to witness this High NRG Show in advanced because, SusieQ thought she could sing along with Marina! Oh, BOY! The two danced as if they were on a C&C Music Factory Video! The good news is that Marina kept steering the ship in the right direction.
WERK IT OUT! NOW!
Squat like you never have before, has Marina belts out the words Squat in musical fashion, as Brandon & SusieQ join in on the fun! "I love the violins" was another high NRG song that Marina performed! (She plays the violin & the guitar).  Never will you hear lyrics that Marina sings, anywhere in the fitness world; as "My name is leg and I strut ya downtown!"  This is a radio show that you need to hear, see and experience for yourself! Luckily every single episode is now filmed and uploaded on Marina's featured YouTube channel!
Featured on the show was "SusieQ Fitlife: Arms of a First Lady" DVD.  SusieQ spoke about why she started out in the Fitness Industry and why she is on a Michelle Obama mission! You do not want to miss this! SusieQ also praised the First Lady's speech the night of the Democratic National Convention.  Watching this video will give you a quick jolt to your day and Brandon even admitted that "this was one of his favorite show moments!" SusieQ gave a quick shout out to the "American Lung Association" for the upcoming "Fight For Air" stair climb she will be leading on February 9th, 2013! Stay tuned for more updates on the ALANE website! The SusieQ FitLife mission is to motivate and interact with many people on the SusieQ FitLife Family Facebook page! SusieQ feels such a close connection with everyone who interacts and engages on the family wall! Everyone is so thoughtful and kind! Each family member has a voice and is heard! You can't help but feel really good about the positive FitLife Energy that is shared by everybody! In closing of the radio show, the beats per minute began to lower as a Kama Sutra type of melody began to fill the air! But, why are you still here reading this! Go and see this for yourself & Get a FitLife!
PS: Special thanks to Gina Scarda for making a wonderful introduction on behalf of SusieQ FitLife to Marina's High NRG Fitness & Workout Musical Health Show! All of our FitLifers will appreciate your kind gesture for spreading the FitLife word!
Visit: http://www.highenergyfitness.com/