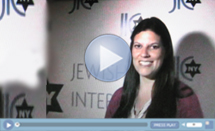 The Jewish International Connection of New York, better known as the JICNY recently celebrated their 10th year Anniversary & 7th Annual Gala! SusieQ FitLife covered the event for the past three years and would like to share the official JICNY Passport to the World! Watch the video clip to see what you missed!
The founders of this non-profit organization are Steve Eisenberg, Jodi & Gavin Samuels.  The purpose of the JICNY is to connect International & American young Jewish professionals in their 20's & 30's together.  This is achieved through hosting hundreds of Shabbat meals & torah Monday night classes, in hopes of engaging couples to be married and raise a family!
The organization has had much success as they have engaged 75 couples and counting! The Annual Gala event allows people to mingle & meet beautiful foreigners, indulge in delicious cuisine, win priceless auction & raffle prizes, listen to live music courtesy of the "SpiceRack" band and celebrate with champagne toasts while saying "L'chaim."  This great event raises money towards this great organization, while continuing to strengthen the community.
It is quite wonderful to see the wonderful facets of the JICNY as they work towards bonding with each other within the community through professional and social networking.  The JICNY Networking Group welcomes other cultural backgrounds and makes people feel at home while assisting individuals to further their careers.
Much can be learned from such an organization.  SusieQ commends the group on their dedication to helping others achieve greatness & wishes that many more people will adopt the mentality of strengthening the support groups within every community!  The JICNY is proudly known for paying it forward!
Feel free to learn more: www.JICNY.com