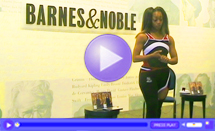 How well do you know your ARMED Celebrity Fitness Trainer, SusieQ? Yes, we have all seen her on The Dr. Oz Show, ABC's The View, CNN, Good Morning America Health, The Today Show, NY1 News, CBS The Early Show & NBC's LXNY TV. But, from the sounds of her latest video confession for the launch of the Watch Your Mouth Faceoff, she reveals what you won't ever hear a trainer say! She shows us what habits she would like to kick, in support of the FitLife Family to follow her lead in doing the same to "Get a FitLife!" SusieQ says, "Many people don't realize that I am a professional "fluctuator" who struggles with weight. My goal is to keep all of the FitLifers, encouraged, motivated and honest by keeping myself honest with the general public. I will not have it any other way!" But, how many bananas can one trainer eat… one, four, eight or ten bananas? SusieQ soon reveal.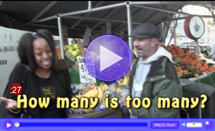 You can't argue the price or convenience of eating a banana, free of knives or forks, while on the run. Just peel, eat and hit the road; says SusieQ whilst confessing her shocking bad habit! When in New York, SusieQ's best friends are the fruit & vegetable vendors on the street, who she calls by name. Tayyar, who is located on 125th Street & 8th Avenue, where SusieQ made her public announcement of eating anywhere from 4-10 bananas all at once or throughout the day! She says "Bananas are the quickest snack for me to grab, while it packs a punch of potassium, fiber and is a great energy source! It is nature's most simple fruit to enjoy and processed/fast foods are not a desire nor an option. I eat on the run & try to avoid skipping meals while sometimes have nothing prepared!" This is a serious violation for any Trainer to make! "My stomach will later churn & I know my body is telling my face to Watch Your Mouth!".
SusieQ also wants to illustrate the downside to over consuming on any one food group, no matter how beneficial it may prove to be. The banana will be explored in greater detail as to whether excessive consumption is harmful or poisonous to our health in a future Watch Your Mouth Faceoff! Update! (See Nutritional Breakdown below). SusieQ will reduce her banana intake & continue to prepare healthful home cooked meals and package them for the road; as most trainers do if they are serious about their FitLife! You must Watch Your Mouth! There are no shortcuts, however healthful recipes will be on the way to this site!
It's your turn to turn the camera on yourself & upload a :60secs YouTube video, or Tweet/Facebook post to the SusieQ FitLife wall to display any bad habits you would like to kick and replace it for a healthful FitLife habit! This Celebrity Fitness Trainer wants you to treat yourself as Super-Star or First Lady! She is surprised by people who want to see immediate results, while failing to make a simple effort by joining the Faceoff for FREE! SusieQ urges people to make a positive change for 2012 & to sign the Watch Your Mouth & Get a FitLife DECLARATION! It's all about your FitLife, so join our FitLife Family & Get a FitLife!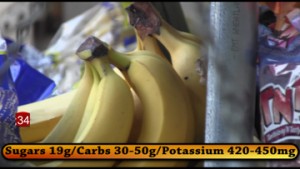 Nutrients One medium-large banana contains 1.29 grams of protein, 105-200 calories and 3.1 grams of dietary fiber. Remember there are 19grams of Sugar, 420-450mg Potassium & 30-50g Carbohydrates.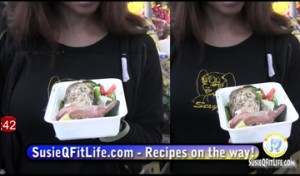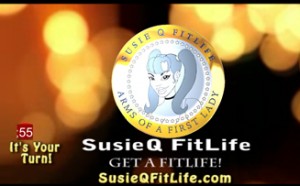 Join us on for the Watch Your Mouth Faceoff & hold yourself accountable to achieve great results! Delicious Recipes are on the way to SusieQFitLife.com! Helping you to Watch Your Mouth & Get a FitLife!