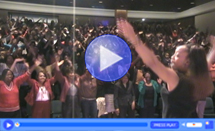 The Cleveland Clinic celebrated their 8th annual Universal Sisters: Live Younger Longer event, hosted by Dr. Linda D. Bradley in Cleveland, Ohio.  The event Keynote Speaker was National Celebrity Fitness Trainer SusieQ who has been on numerous national television shows! It was an Oprah moment experience as SusieQ FitLife addressed hundreds of women and a few good men, as she delivered a meritorious presentation.
Top leading Cleveland Clinic Physicians, along with a robust group of panelists, who are health & wellness experts helped many women to enhance their lives through healthy eating, exercise, health screenings, assessments and colon health.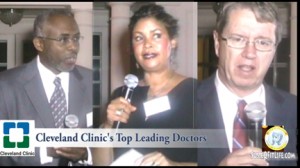 Practical tools were provided along with an incredible special cooking segment "What's Food Got To Do With It?" demonstrated by Linda Bradley, MD  & Margaret McKenzie, MD.  Discover how to make healthful soul food from scratch that is in season.  Unfortunately home cooking has become nonexistent. When it comes to feeding your body and mind, nothing is superior to preparing your food, (not from a box), with quality ingredients served with love.  These techniques will help you save time & money as you learn how to modify recipes, making fresh, balanced meals that support weight loss, while promoting good health.  You'll enjoy rediscovering your kitchen and your taste buds!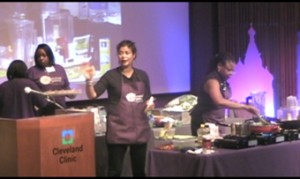 Reducing stress and avoiding sabotaging efforts to achieve optimal health was a key component! The event helps to raise awareness on women's health issues, promoting self care and providing model behaviors to bring sustainable changes within the African-American community.  This experience creates a "domino effect" that naturally occurs for women to strive for better health.  Become inspired and energized just watching this highlight video clip, as you will gain a wealth of knowledge and motivation!
Individuals were honored; whose lives and countless efforts have made a difference within the community.  San' Dera Prude took charge of her life and eliminated unhealthy habits and gained new habits for a healthier life.  Listen to how she lost weight, banished diabetes and lowered her blood pressure… all to the delight of her doctor and coach.  The recent documentary, Forks Over Knives, featured her personal achievement as Ms. Prude states "It's not about the medication, it's about the education!"
The gift of Michelle Obama's "Arms of a First Lady" DVD workout was included in all attendees gift bags! They were loaded with great sponsored products to help every woman on her journey to Living Younger Longer.  Be sure to spread the word among your family, friends, and workplace community. Have a fun filled holiday & Happy New Year to ALL!