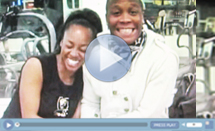 This Minister of Movement is about to MOVE YOU! Get a peep of this master in FitLife's "2'B Reel" enclosed video and see him for yourself! Meet Calvin either in his world tour, weekly NYC classes or at his upcoming dance marathon, CHOREO*THON!
Vibrant, classic, sensual, progressive & brilliant are a few words that are used to describe this international living legend. FitLife was given exclusive access to uncover the back story of Mr. Wiley in these rare and never seen before interview clips.
Calvin is the Founder & Artistic Director of the Calvin Wiley Dance Theater "CWDT", a NYC dance & theater group. He is also the creator of the global brand CALVINOGRAPHY®. Mr. Wiley is respected by the top fitness professionals in the industry including Carol Scott of ECA who says, "He puts his heart & soul into his work". Star Jones of ABC's "The View" found her groove when participating in the debut of CALVINOGRAPHY® on the show. As seen in: 2'B Reel clip
Calvin inspires & mentors many Fitness Professionals, including Shaun T., Marvin Foster, Jessica Exposito, Kendra Kemerly to name a few. As expected from any legend this master has a cult following of loyal participants and this is not even a yoga class!
Here's what some of the CALVINOGRAPHY® fans have to say in their own words:
"I feel the impact of everything that is CALVINOGRAPHY®… the energy, love, passion, self esteem booster, work, joy, Fierceness and most importantly community."
"Calvin's classes are not just about exercise; they are an artistic and personal development experience. "
"Calvin's dance exercise classes provide the incentive and motivation to continue to come and work-out and bring in others to experience his grace, skill, and ability to make us sweat and push ourselves."
"Anyone who has taken the class is well aware that the amazing but challenging routines that Calvin teaches take time to work through. The 20-30 minute stretch session at the beginning of class is also imperative to be able to perform the routine without injury."
"Calvin's classes are not just about exercise; they are an artistic and personal development experience. He has taught me how to be comfortable again through movement and how to be expressive in different ways. Dancing for me has taken a much deeper meaning since taking his class. I have Calvin to thank for that. I've witnessed how dancing can be a vehicle to which one can form relationships with people. With Calvin, I came to the conclusion that "Dancers aren't made of their technique, but their passion."
With a grand international reputation he has traveled to China, Germany, Spain, Sweden, Greece, Atlanta, Boston, Miami, NYC and many more places! Calvin has the natural and innate ability to improv choreography to create an MTV music video style production in class… now that's talent!
Calvin has partnered with www.Move-Ya.com for more than a decade, to create a variety of music CDs for the fitness, dance and home market.
Calvin proclaims that his life calling is to motivate and inspire people through movement. When you watch him in action, you can see why! His motto is that "Dance is a timeless form of self-expression." He firmly believes that there is a "dancer" in everyone!!
iQ Events Presents:
CHOREO*THON
Dance to the Finish Line
Saturday, July 9th at the Equinox/Wall Street, 12pm-6pm, a compilation of dance master classes. Open to members & non-members. This Choreographer's Ball is a unique opportunity to increase your movement intelligence, while experiencing multiple dance styles within one dance experience. This one day event is an opportunity to learn from some of the world's best choreographers including:
Shaun T., Madonna Grimes, Craig Smith, Germaul Garnes, Eddie Villanueva, Israel Mallebre & Calvin Wiley!
Playlist: Dance Street, House Hop, Dancehall, Global Dance, Contemporary Modern & much more!
For more details contact: inquire@calvinographydance.com or call (212) 964-6688