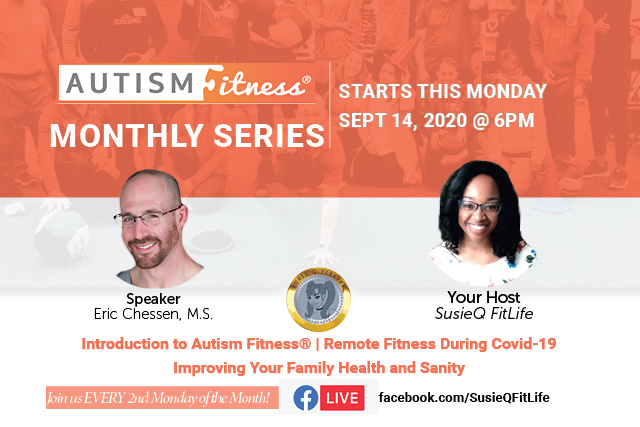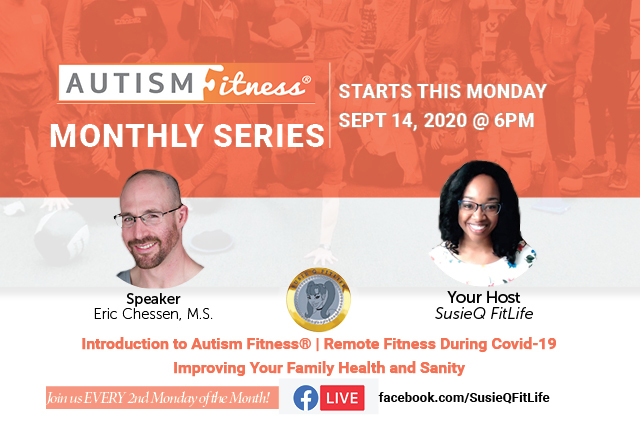 Autism Fitness: Covid-19 Remote Fitness!
Join us this Monday, September 14th @ 6pm EST! This will be a monthly series (every 2nd Monday of the Month) with Autism Fitness LIVE on Facebook.com/SusieQFitLife
Learn how to release energy, grasp fun sensory tactile activities to help improve the overall health of your children or the inner child within you along with your sanity!
Learn how to support your child (of any age) in fitness! Eric Chessen will explain why Autism Fitness limits no one and that it caters to every age group! There are no limits!
Be able to provide the appropriate level of challenge with each exercise. Develop an understanding of which exercise to choose (and what to avoid); All leading to improved physical health and your improved sanity! AMEN!!!
Join our Facebook Watch Party: https://www.facebook.com/events/345503749927388
Feel free to share/invite more friends, family members, guardians or caretakers who would like to learn more.
Always… we send you strength, patience and love! Stay FitLifeSTRONG!