It is 40 days until Turkey Day next month! Let's face the reality that many of our FitLifers will begin to hibernate at home, eating more snacks/treats and workout their chiseled jawline, chewing all that junk food! Every FitLifer needs to be inspired not to over-indulge on poor food choices & motivated enough to avoid skipping workouts! It is imperative that you "Watch Your Mouth & Get a FitLife" with our 40-Day FitLife Fall Challenge! Simply select one bad habit you want to "drop kick" & "fall" into a good habit that will improve your FitLife! Sign the Declaration form below to get started!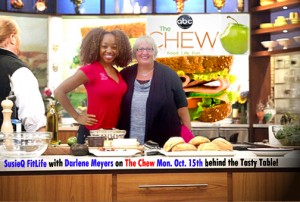 You can count on your FitLife Family to support & encourage you every step of the way, on our SusieQ FitLife Facebook page! Here is an opportunity for everyone to help one another with suggestions of healthy recipes, quick workout ideas, reasons to feel thankful & creating "original quotes"; to guide us along this exciting journey! There is power in numbers and we can all impact and change each other's FitLife for the better with SusieQ-Tips, FitLifer ideas, ARMED DVD workouts & meal ideas! SusieQ FitLife will faithfully provide you with many tools to ensure that you will work towards your goals and "Get a FitLife!" Watch ABC's The Chew today @1pm to see SusieQ & FitLife Cheerleader, Darlene Meyers behind the Tasty Table as you learn more recipes & some pomegranate tips to get you started!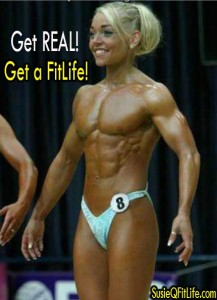 Let's set "realistic and achievable" goals for ourselves. This 40-Day FitLife Fall Challenge will hold you accountability with your FitLife Family! If we begin today we will feel so much better with ourselves entering the 2013 New Year! Don't feel guilty about your past actions asking yourself "why did I do that?" You are not alone! Receive the encouragement you need today that will make you feel even more thankful tomorrow with a FitLife mindset, which will soon become a forever FitLife-style.
If you would like to join us on this journey please join our FitLife Family on Facebook! Post your commitment on the www.Facebook.com/SusieQFitLife wall & together we will do this challenge and make it happen! It's time for us to prove to ourselves that we can improve our physical, mental and spiritual state by taking care of our bodies and finally putting ourselves FIRST! Take advantage of the portal of information on our FitLife site & Facebook page!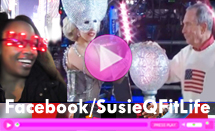 Consider this your "40 Days of FitLife Thankfulness". We must be thankful to have a chance to connect with every FitLifer online! This is an awesome FitLife Family & we are thankful to share a new "FitLife-style." Share your achievements, struggles & thoughts with us! Get Involved! Commit to making changes in your FitLife & successfully share it with our FitLifers!
How to get involved wit hour "40 Day FitLife Fall Challenge!"
Step 1: Pick a Bad Habit that you want to kick & then replace it with a Healthful Habit!
Step 2: Log on to sign your Declaration to Get a FitLife on SusieQFitLife.com/declaration
Step 3: Connect with us via Facebook and/or Twitter to begin posting your habits with the FitLife family!
This "40 Day FitLife Challenge!" will accredit your FitLife Declaration! Performing different actions, produces new results; allowing you to make some major changes from improving healthful eating habits to increasing your physical energy level.
SusieQ FitLife will begin to post Fitness Goals & Workouts to keep you motivated and inspired to stay on track! Watch Your Mouth Foods will soon become implemented on the site giving you great choices whether you may be Vegan or a full-fledged Meat lover. There will be options for everyone! Most importantly, when you Watch Your Mouth & talk back to SusieQ or the FitLife Family we are always listening and welcome your words! Now, "Get a FitLife!"
Watch Your Mouth & Get A FitLife!
Our FitLife mission is to attain
One Million & One Signatures
from everyone who is
ready to "Get a FitLife"
& join this initiative!
SusieQ
will present all submitted forms to
Capitol Hill
with great effort to
stop the FOOD FIGHT!
Children & everyone across the nation will unite on the
"Watch Your Mouth & Get A FitLife!" campaign.